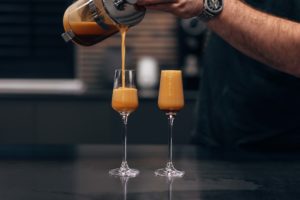 This week the UK comes together to celebrate the monarch's historic 70-year milestone, and we've got the perfect celebratory drink!
This delicious signature drink was mixed on stage by our talented trainer, James Pipkin at this year's SCA UKBC, and he's divulged his secret recipe so you can create one at home.
What you'll need / Ingredients (Serves 2-4):
– French Press
– 50g Of Ice
– 2x Double Espressos (Coffee Capsules are suitable if you don't have an espresso machine)
– 3g (1x Pyramid) of our Rooibos Tea
– 4x White Grapefruits
– Strawberries
– Caster Sugar
The Syrup:
The magic ingredient to this incredible drink is a homemade strawberry & white grapefruit oleo saccharum (Syrup). You'll need to make this in advance, but it's super easy…
Start by adding the skin of 4 white grapefruits and half a punnet of chopped strawberries to a sealed food bag with equal parts caster sugar and leave to ferment for 24 hours, then sieve the syrup into a suitable container.
Recipe:
Start by adding 3g (or 1x Pyramid) of our rooibos tea to 100g of water, brewed at 95 degrees for 3 minutes, then pour over 50g of ice to cool.
Grab your French Press and combine your tea with 30g of syrup, and two double espressos.
Give your drink a good thorough mix using the plunger of your French Press to add volume and texture.
Grab your fanciest glassware, and serve. Sip delicately with your pinky raised in the air for extra royal points.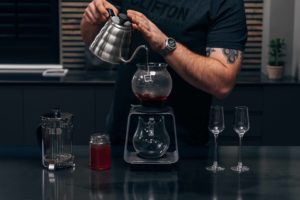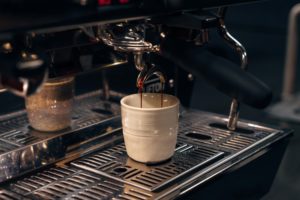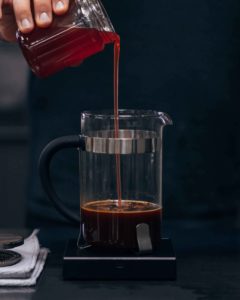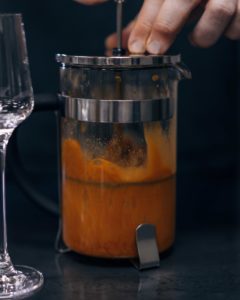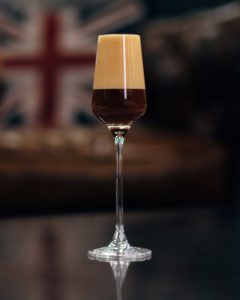 NEWSLETTER
The latest coffees, offers and news from the roastery.