Education
Award winning training and support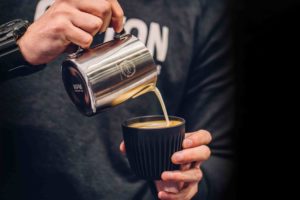 We take great pride in having one of the most experienced teams of trainers in the UK who hold national and international competition titles.
With experience working with baristas from a range of backgrounds, from award-winning national chains, hotels, restaurants and small independent speciality coffee shops, we're able to offer tailored training programs to suit different experience levels and environments.
All of our wholesale customers are entitled to FREE Barista Support Training at our SCA Premier Training Campus. This course covers all of the essentials that a new coffee business would require including; the construction of a coffee menu, espresso extraction, milk steaming techniques, workflow and machine maintenance. 
Wholesale customers also receive a significant discount on further SCA education. These advanced courses are recognised worldwide and are orchestrated by our authorised SCA trainer.
To read more about our education program visit our Training page here
Online Resources
As well as offering one-to-one and group support, this year we launched an online education resource which consists of a series of 16 videos, covering the basics of coffee freshness, ratios, milk steaming & splitting, latte art, cleaning, and machine and grinder maintenance.
You can stream the full collection of videos for FREE on our Resources page here
---
Speciality Roasters. Suppliers of La Marzocco, Fetco, Marco & Loveramics. Engineers, educators & coffee geeks.