Uganda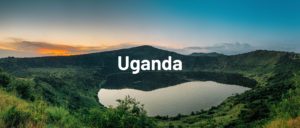 Uganda, known around the world as the pearl of Africa' has a tricky reputation in speciality coffee circles. Historically this area has been known for Wugar (Washed Ugandan Arabica) in the East, and Drugar (Dried Ugandan Arabica) in the West. Both have been historically synonymous with low quality and shocking incomes at the farm level.
However, in recent years several operators have seen deep potential in Uganda. High altitudes, fertile soils and an open attitude to international trade all place Uganda in an excellent position to produce and export fantastic speciality coffees. Investing across the board in infrastructure, finance and quality training, these companies are making massive inroads and putting Uganda on the map for high cupping specialty coffees. 
In the East of Uganda, in the shadows of Mt Elgon, we work with Kygalanyi Coffees and their washing stations in the Sipi Falls region. These coffees are bright and Clean with attributes similar to the best washed Rwanda and Kenya coffees. In the West, bordering the Elephant Plains of the Queen Elizabeth National Park and the Rwenzori Mountains are Agri-Evolve. Started by Jonny Rowland, Agri-Evolve seek to produce high quality naturals and washed coffees to drive smallholder income. This is been very successful, with 5 fold increases in farmgate income compared with the traditional Drugar supply chain. This year we are funding a smallholder circular banking fund, allowing producers to borrow money interest free for farm improvements and household improvements.