Eagle One
VICTORIA ARDUINO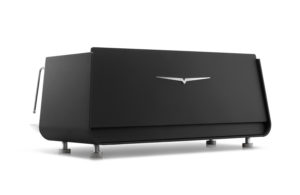 Meet Eagle One by Victoria Arduino…
The Eagle One has contemporary, compact, Italian design and ergonomics working in perfect harmony. Capable of producing high volumes of drinks without compromising on consistency.
It's been designed to keep up with the current specialty coffee landscape, with sustainability at its heart. It's built using recyclable and more efficient materials and has an impressive redesigned engine, making improvements to its boilers, water pressure, and insulation.
The machine's panels are constructed to allow for easy customisation, meaning it can be tailored to match your café or environment with very little work.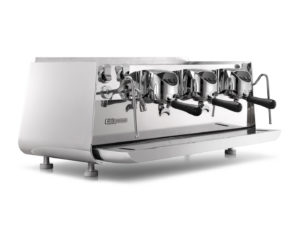 A completely new engine.
The Eagle One was developed to reduce our environmental impact by embracing new technology. Carbon emissions from power consumption are minimised through the use of new materials and the unique design of the machine. This can save you money on your power costs, especially when compared to other machines.
The NEO engine uses an instant heating system with a unique insulation mechanism, that reduces not only the heat dispersion but also energy consumption. It works almost instantly, allowing only the necessary amount of water for the extraction to be heated, thus reducing energy-related costs.
Productivity and performance remain high, but consumption is considerably reduced. The LCA* (Life Cycle Assessment) demonstrated how the Eagle One had a 23% less environmental impact concerning the same category machine.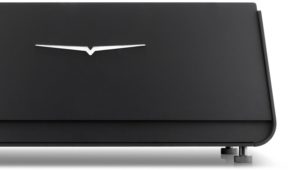 Design & Simplicity
For the shape of the Eagle One, Victoria Arduino was inspired not only by its impressive history, but also concentrating on the needs of the new era coffee shops that require compact, efficient, and sustainable machines.
That's how design and innovation fuse: having a substantial impact inside the machine in correspondence with its new form. The result is an extremely compact object, simple to use, minimal design, with a new engine able to guarantee high performance and energy efficiency.
Specifications
TWO GROUP
| | |
| --- | --- |
| Dimensions (W x D x H)  | 758 x 576 x 437mm |
| Cup Warmer | 336 x 667mm |
| Group Height | 105mm |
| Power | 5000w |
| Cup Warmer Power | 400w |
THREE GROUP
| | |
| --- | --- |
| Dimensions (W x D x H)  | 988 x 576 x 437mm |
| Cup Warmer | 336 x 897mm |
| Group Height | 105mm |
| Power | 6500w |
| Cup Warmer Power | 500w |
Available in White, Black or Silver.