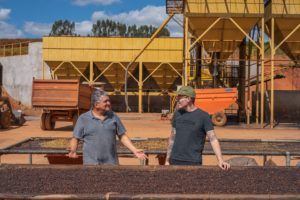 Written by Paul Griffiths (Head of Coffee)
Last week we travelled across the southeast of Brazil to meet with new and existing producing partners. This was my first trip to origin as Head of Coffee which was really exciting. Below is an overview of what we got up to and some photos from the trip.
We started our trip in Sao Paulo before travelling northeast to one of our import partners in Varginha. We were introduced to the team there who are responsible for onboarding new local producers, purchasing, quality control and most importantly, sustainable practices. They were extremely knowledgeable of the local market, coffee qualities and the traceability of the coffees in the Minas area and throughout the regions they deal with.
Our first farm visit was to a new producing partner of ours – Fazenda Bela Vista, the name translates to 'farm with a beautiful view' and it really was a sight to behold. The farmhouse will be 100 years old next year and was full of historic photos, paintings and artefacts. The farmhouse is surrounded by rolling hills and beautiful wild foliage. This 4th generation coffee producing family is now led by Otavio, Gabriela and Toni Reis. They are extremely proud of their coffee quality and sustainable practices. They have recently invested in solar panels to help power their home and drying facility, with over 300 hectares of farmland preserved for natural plant and wildlife growth. There is also a school next to the farmhouse where 120 kids from 4-14 years old study. This school was funded by the local government and additional support in the form of learning material and computers comes from Bela Vista and Volcafe programmes.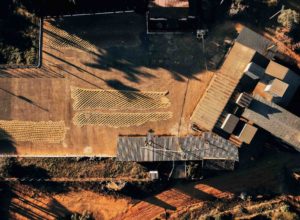 (Fazenda Bela Vista)
We spent the day touring the drying facilities of Bela Vista. They use a range of drying methods including mechanical, static and patio drying to yield different flavour profiles and lot sizes. It was amazing to see the exact control they have over the mechanical driers using PID temperature control to monitor and manipulate drying times. We were also excited to see some of Otavio's anaerobic natural process experiments; combining coffee with wild yeasts and extended fermentation times is something I haven't previously seen from Brazil.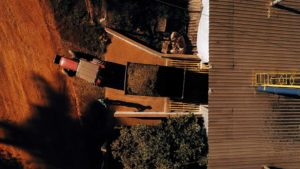 After an afternoon of horse riding around the farm along with riding the huge mechanical pickers, we spent the evening in the farm's purpose-built quality control lab. We sample roasted Bela vistas fresh crop samples and tasted a wide range of varieties (Mundo Novo, Acaia, Catuai and others) along with numerous processing methods. We were blown away by the wide range of flavour profiles available from the farm.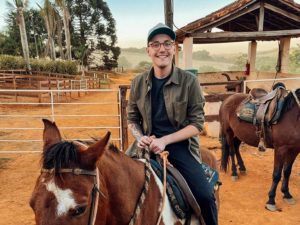 The next day we travelled back to Volcafe HQ in Varginha to calibrate and quality control a range of coffees intended for the local market, and speciality market. This was eye-opening and made us realise the high-quality coffees that we're used to in our speciality market.
Once we wrapped up in Varginha, we headed further north to spend the second half of our trip with a producer we've worked with for over four years – Fazenda Pinhal, led by Pedro Gabarra, João and Milau. We currently use their coffee as our Suspension Espresso and are thrilled to be working with them for another season. Their 200-year-old farmhouse was full of coffee heritage and surrounded by nature, with wild monkeys, Toucans and bee houses dotted around the property.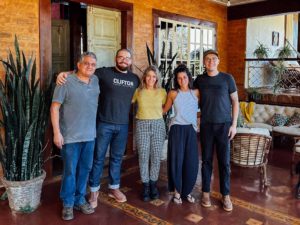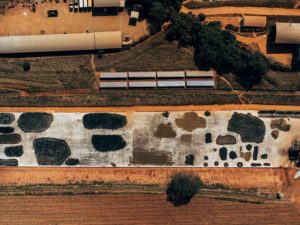 We spent the afternoon touring the vast farmland of Fazenda Pinhal and their neighbouring farm. We were blown away by the abundance of wildlife and how passionate they are about preserving this. Over 40% of their land is dedicated to natural trees, rivers and fruit plants that support the ecosystem and biodiversity throughout the farm.
Their interest in local wildlife is reflected in the work they do around wild bird rehabilitation. The Wings Project, an initiative that supports over 750 birds in their rehabilitation from injury, with the aim to quickly and safely return them to the wild. The project, together with Pinhal's outstanding operational practices has gained the farm the title of the most sustainable farm in Brazil for two years in a row.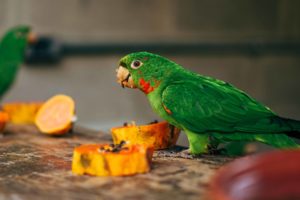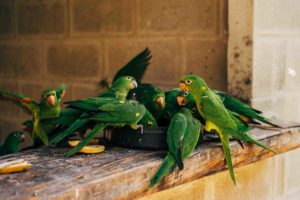 The next day we observed the drying and processing facilities at Fazenda Pinhal. The patios, static and mechanical dryers were extremely well organised and efficient. Every temperature, moisture content and brix reading was carefully documented and followed the lot to each part of the process to ensure quality standards throughout the coffee's pre-export journey. We were also pleasantly surprised to see many of their experimental natural and anaerobic lots were dried on African-style raised beds. This helps create a more even and consistent drying process, therefore improving cup quality.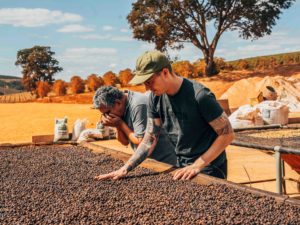 We spent the afternoon at the Pinhal QC room. We tasted a vast range of coffees from lots we've previously purchased year on year, to new and more rare varieties they've produced this year. Possibly one of the most exciting tables of coffee we have tasted in some time and completely changed our perception of Brazilian flavour profiles. We can't wait to share with you the Mundo Novo, Yellow Bourbon and cross varieties we have planned.
We had an amazing time learning about coffee production in the south Minas Gerais area along with setting up long-term coffee partnerships with Fazenda Bela Vista and Fazenda Pinhal.
NEWSLETTER
The latest coffees, offers and news from the roastery.