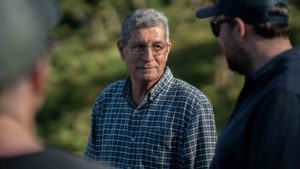 (Ricado Lima, Finca Buena Vista)
First day in El Salvador, we've spent the day with Ricardo Lima exploring the farm where our E1 Espresso is grown, Finca Buena Vista and Cuzcachapa Cooperative, where 12% of El Salvador's coffee passes through. 
As we were travelling around the the farm, Ricardo was telling us of the challenges the past year has brought, from experimenting with root systems and different varietals to combat leaf rust or pests and insects like the berry borer. As he will not go down the route of using chemicals to control the pests, to fight them he has found a very simple but effective solution, using insect sticky pads that will attract the berry borer and other pests before they destroy the coffee cherries, he was extremely pleased with this solution as its cheap and very very effective! 
Today we will be meeting with Ricardo's brother, Fernando Lima, who will be showing us more of his farms at much higher altitude, surrounding Santa Ana Volcano.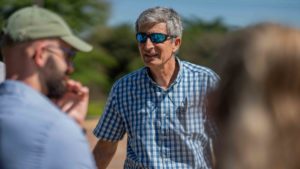 (Fernando Lima, Finca Serbia)
Day two in El Salvador, started off in Cuzcachapa Cooperative before meeting Fernando Lima to visit his farms Finca Corozo, Finca Santa Elena and Finca Campanula which are positioned on the side of Santa Ana Volcano at an altitude of 1400 – 1900 MASL. 
Fernando showed us many different varieties across his farms like Bourbon, Typica, Caturra, Pacamara and Geisha. All of these trees were shade grown to slow down the maturation of the cherry resulting in a higher cup quality. Fernando is very particular about the trees he uses for shade. Only using extinct trees across his farms, he travels to a seed bank in Guatemala to help repopulate these trees across the Santa Ana Volcano.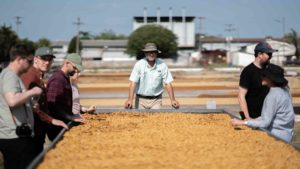 (Federico Pacas, Cafe Tuxpal)
The final day in El Salvador started off once again in the Cuzcachapa Cooperative but this time for a tour around the mill and a cupping of fresh samples lead by Francis Lopez. The tour gave us an insight into the harvest schedule of one of the biggest coops in El Salvador, producing 12% of the nations coffee that results in 90,000 sacks of green coffee annually. 
Later on we travelled across to Cafe Tuxpal where we met up with Federico and Lily Pacas whose great grandfather founded the Pacas variety. While we were at Tuxpal we had a tour of the mill and drying patios before taking part in another cupping of their micro lots. Using a variety of washed, natural and honey processes, Tuxpal focuses on high quality processing and a wide range of coffee varietals. They use raised African drying beds under shade to slow drying times and to maximise the sweetness in the coffee. Once the coffee has been processed they use a colour sorter to remove any defects in green coffee. 
NEWSLETTER
The latest coffees, offers and news from the roastery.