HWB – 2110
FETCO
Since 1987, FETCO® has been one of the foremost coffee brewing equipment manufacturers in the world and it continues to develop revolutionary solutions for the coffee industry. FETCO® is first when it comes to creating innovative products that brew the perfect cup of coffee while improving safety features, simplifying equipment maintenance and saving operators time and money. Their standards of reliability, durability and quality are evident in every product it makes. FETCO strive to produce the best equipment in the industry and their commitment to excellence is apparent in everything they do.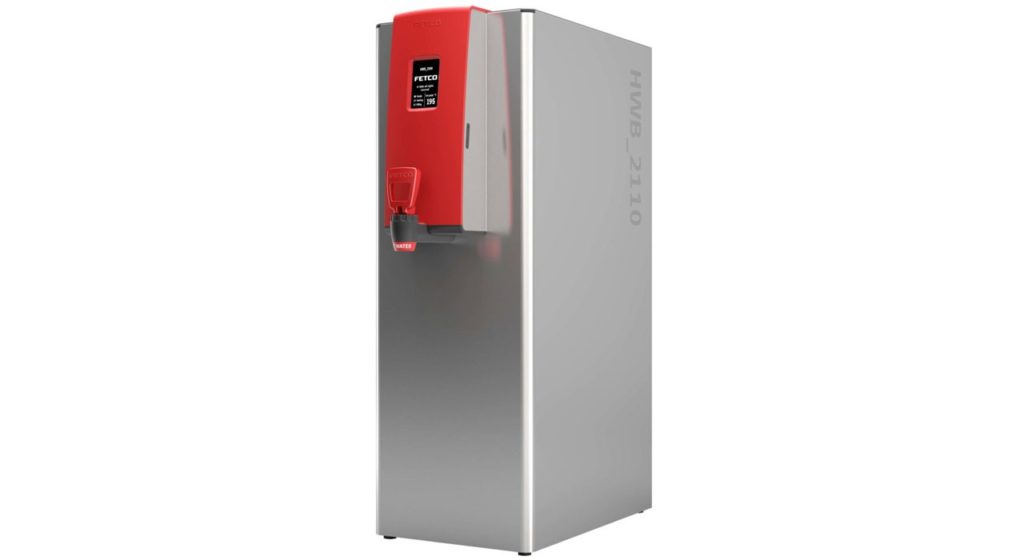 KEY FEATURES
The HWB-2110 10-gallon hot water dispenser is the ideal size for heavy duty food/beverage prep and cleaning tasks and combines the simplicity of a traditional style pull faucet with the modern convenience of a touchscreen interface. The dynamic display touchscreen allows for easy access to temperature controls, dispense metrics and diagnostics while the simple screen layout makes it easy for staff to understand and operate. The simple and intuitive screen design makes it easy to program the desired temperature for consistent and precise hot water dispensing.
An exclusive FETCO pull faucet design with soft silicone tap helps protect glass and ceramic serve-ware against damage. The interior top and sides of the unit are fully insulated to maximise heat retention, improve overall energy efficiency and allows for cool outer surface. 
The adjustable Controlled Refill feature helps manage recovery time to ensure for a continuous flow of hot water during your operations' peak service times. Mixed material construction is durable for the rigours of back-of-house yet attractive enough for front-of-house. It's also easy to clean and sanitise. 
Built to the highest quality standards, this dispenser easily handles the rigours of everyday use and delivers years of reliable service.
SPECIFICATION
Energy Efficient Design

Easy Set-Up & Programming

Menu Flexibility

Feature Rich
HWB – 2110
| | |
| --- | --- |
| Power | 6.1kW |
| Protection rating | 32A |
| Empty weight | 23.1kg |
| Filled weight | 41.7kg |
| Optimal output | 38 litres per hour |
| Temperature range | 70 – 95ºC |
| Dimensions | 800 x 279 x 565mm |