CBS – 2142 XTS
FETCO
Since 1987, FETCO® has been one of the foremost coffee brewing equipment manufacturers in the world and it continues to develop revolutionary solutions for the coffee industry. FETCO® is first when it comes to creating innovative products that brew the perfect cup of coffee while improving safety features, simplifying equipment maintenance and saving operators time and money. Their standards of reliability, durability and quality are evident in every product it makes. FETCO strive to produce the best equipment in the industry and their commitment to excellence is apparent in everything they do.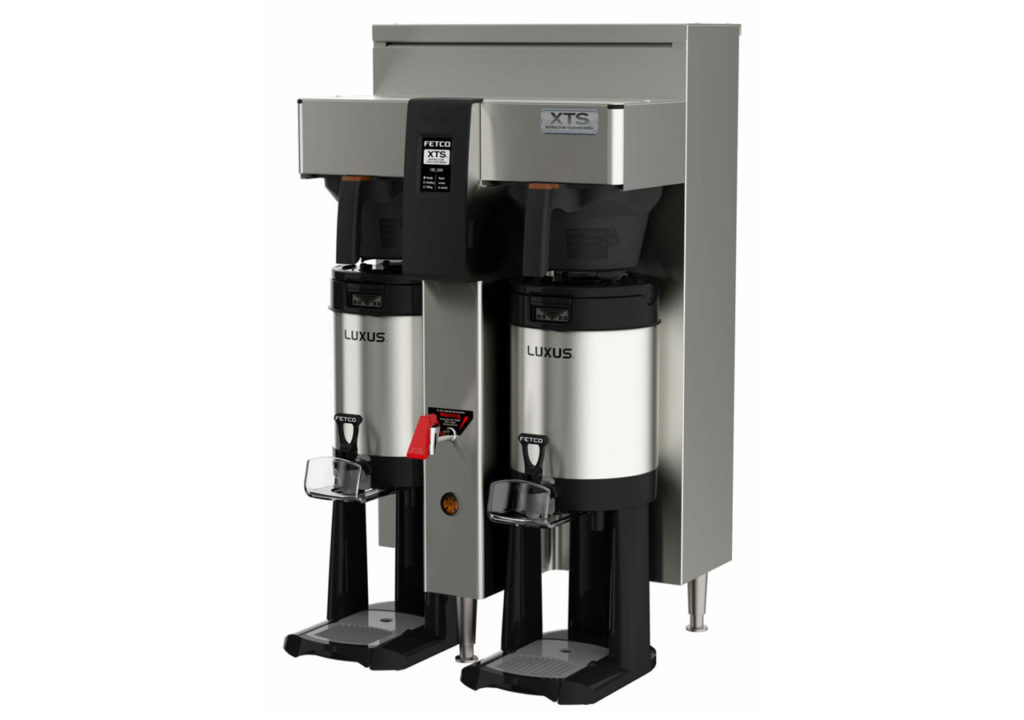 KEY FEATURES
The Dual Station 2 x 4 litre CBS-2142 XTS Touchscreen Series Airpot Coffee Brewer is a perfect match for any specialty coffee shop, hotel, restaurant or large office.
Experience total control of this fully featured Extractor® Brewing System via an inviting touchscreen interface display that is intuitive, easy to read and simple to navigate.
The Extractor® gives you full control of the entire brewing process. From temperature of water to time of the brew to water volume allowing you to create the best brewing recipe for your coffee.
The 2142 comes fitted with the new Cascading Spray Dome®. This patented spray head won't rust, is easy and safe to clean, and above all delivers uniform saturation of the coffee bed so your coffee extracts evenly, giving you a tastier cup of coffee.
Duplicate batch profiles and parameters to and from any of the batch buttons on a single machine or copy the information to an unlimited number of brewers via a removable SD card (sold separately). 
SPECIFCATION
Touchscreen Operation [XTS: EXtractor Touch Screen]

True separation between Brew Volume and Brew Time

Pulse-Brew Intermittent Shower Brewing System

Independent Pre-Wet and Pulse-Brew

Cascading Spray Dome' for uniform extraction

Control Board mounted away from 'Critical Zone'

Patented Triac Cooling System under tank to help heating

Constant Temperature throughout entire brew cycle
CBS – 2142 XTS
| | |
| --- | --- |
| Power | 6.1 kW |
| Protection rating | 32A |
| Empty weight | 21.3kg |
| Filled weight | 41.7kg |
| Hot water tank capacity | 22.1 litres |
| Maximum output | 53 litres per hour |
| Dimensions | 873 x 502 x 518mm |