CBS – 2121A
FETCO
Since 1987, FETCO® has been one of the foremost coffee brewing equipment manufacturers in the world and it continues to develop revolutionary solutions for the coffee industry. FETCO® is first when it comes to creating innovative products that brew the perfect cup of coffee while improving safety features, simplifying equipment maintenance and saving operators time and money. Their standards of reliability, durability and quality are evident in every product it makes. FETCO strive to produce the best equipment in the industry and their commitment to excellence is apparent in everything they do.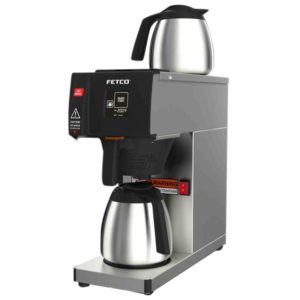 KEY FEATURES
The 0.5G CBS-2121 Touchscreen Series Pourover Coffee Brewers are the solution for small venue operators who need a way to offer guests, employees, or customers a fresh cup of coffee. The simple design allows for any staff level to make brewing a single pot of coffee quick and efficient for a busy behind-the-counter coffee service or a unique self-serve, guest experience. Elegant front-of-house looks and reliable performance make these cost-effective coffee brewers a great fit for your diner, office break room, coffee shop, or dining hall.
Can be annual filled or plumbed.
TOUCH SCREEN
Programmable parameters include: Automatic or Pour Over Mode, Full and Half Batch Volume, Tank Temperature, Temperature Units (Fahrenheit or Celsius), and Drip Delay.
View the manual
CBS – 2121 A
| | |
| --- | --- |
| Power | 1.4 kW |
| Protection rating | 13A |
| Empty weight | 7.75kg |
| Filled weight | 13kg |
| Hot water tank capacity | 5.2 litres |
| Maximum batch size | 1.8 litres |
| Dimensions | 483 x 194 x 470mm |